Help Desk Tshirtprinting.co.za
We like to work with only COOL people from all over South Africa.
Are you cool?
then contact us…. 🙂 
---
HOW DOES IT WORK?
We operate an online t-shirt design & printing Service.
You place your order online via email, we design & print, then
We deliver Direct to your door anywhere in SA.
Keeping it simple,
no travel,
no hassle,
no fuss,
no problem…
All orders are done online only.

online-shop we-deliver-throughout south-africa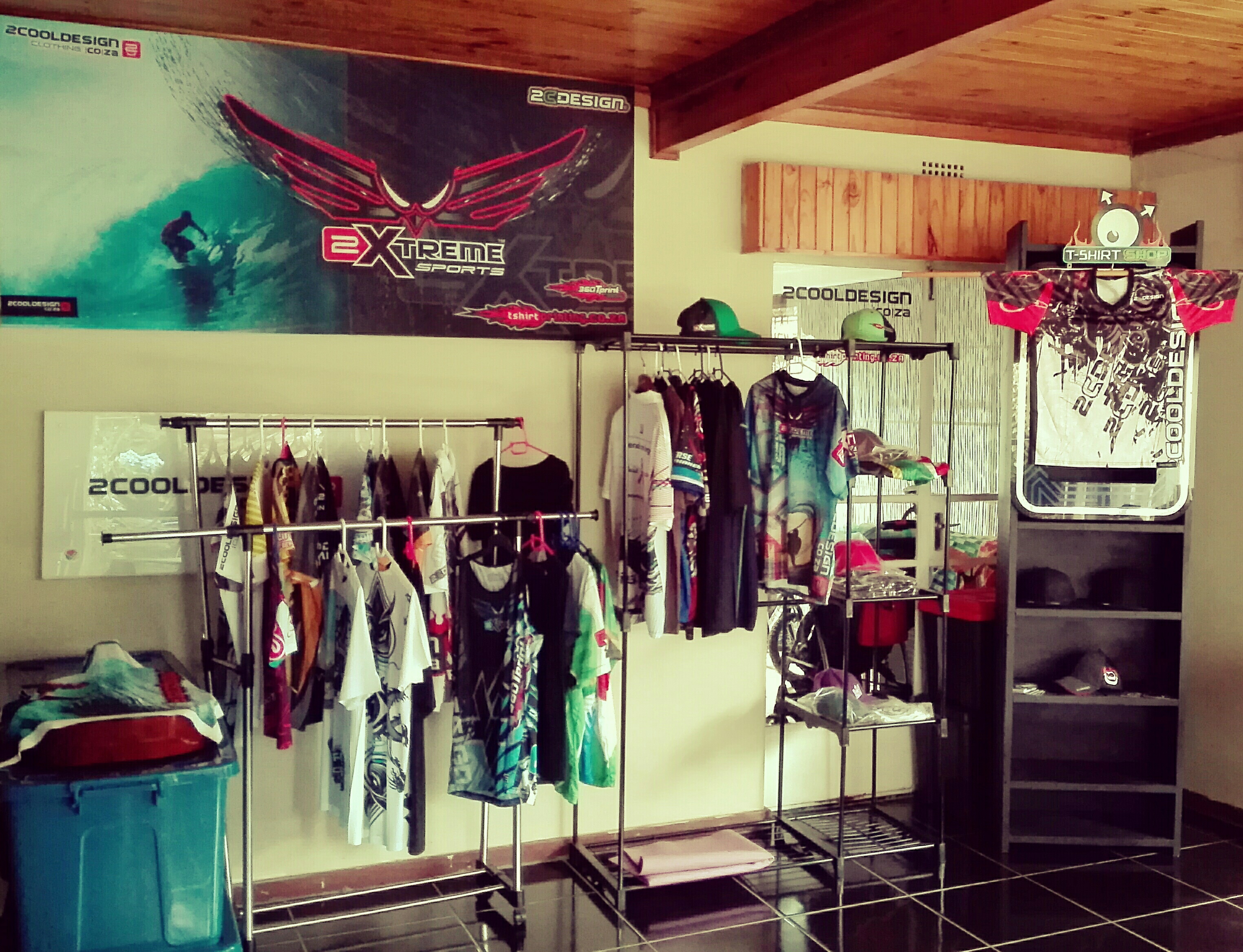 What does it cost?

We advise each customer to browse our site of various other projects we have done for our various cool customers….
Find something you like and tell us you want something similar…
Do some research if needed, what do you like? 
GET YOUR ORDER DETAILS READY, 
Then contact us…& (Tell us what you want?)
simple as that 😉
We like to work with COOL people from all over SA & Some international guys too….
Follow these steps below  place your order online:
Each job is evaluated individually and quoted individually based on the complexity from sourcing stock, how to print, how many, what needs to be done and how we going to design & print what you need….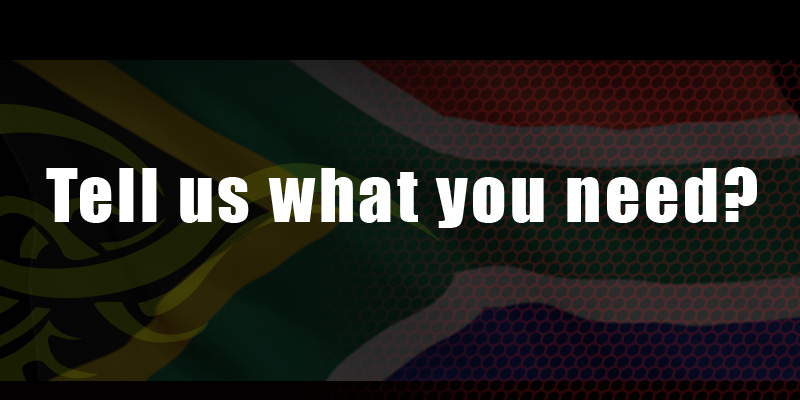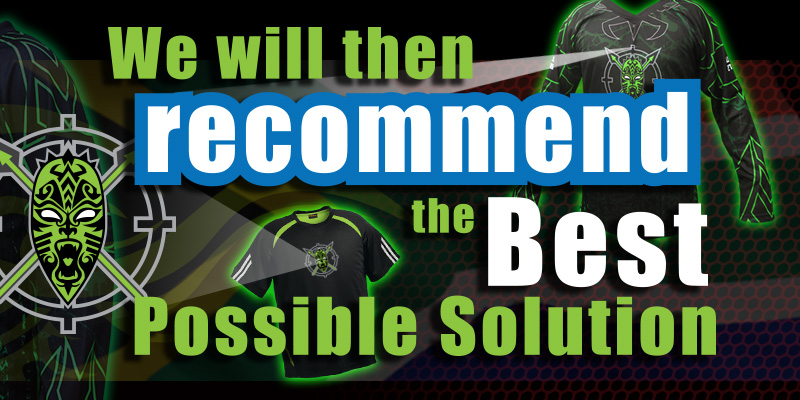 You contact us via email with your request, we will offer the best solution and we complete your order and deliver to your door, anywhere in SA.
How long does it take?
Each job is evaluated individually  based on the turn around time
in most cases, we do not do 'URGENT' orders.. (i need this by end the of the week scenario)
Design Phase, will require some time,(1-2weeks)
Ordering stock will require some time,(Couple Days)
Manufacturing and production will require some time,
(+-2weeks std orders , up to 3-4-6weeks for complex orders)
Delivery will require 24-48hours.
So please contact us if you have given yourself ample time frame for us to complete your order.
Let us know your due date and we will advise you on the best solution.
———————————————————————————————————-
For our ALL OVER PRINTED SHIRT Service in South Africa Time frame:
Design 2weeks min (can go over this in some cases)
Production & Manufacturing (2-6 weeks in most cases) this is based on your spot in the print que.
How does Setup and Artwork work?
You can supply your ideas(if you have) , your sketches ,  or written out visions of what you need.
Or Simply ask us to design something cool and we will come up with the ideas…From concept to final printed design, this is what sets us apart from other 'average print shops'
You get something unique, one of a kind and AWESOME ( it has to be awesome or why else will you be contacting us….
We will then professionally design what it is you need and send you a mock up for approval.
If changes are required, simply tell us what you want changed and we will sort it out for you.
Once final design is approved we send it to print.
Once a Design is approved and sent to print, we can not change anything on the design without having to start over.
So if one of your team mates suddenly wants to add or change something once design is approved, this will lead to a brand new order and we start from beginning again.
And the previous order will go as normal, once full payment is paid we deliver.
Can i see design before i pay?
No,
Simple….no payment, no service.
We require a set minimum of 50% or 100% payment upfront to start any design or printing work.
We will provide you with an invoice and expect payment within 24-48 hours. Delayed payments will result in delayed delivery time.
If you want pro Design,
>>>>>contact us
We offer a highly professional design service which is on par with any major international design agency quality.

How Does sizing work?
In most cases people generally know what size they normally buy from shops like Mr Price sport / Pick n pay and other clothing stores.
If you normally wear a Men sizes medium, order a medium from us.
this below is a generic overview of most standard sized shirts sold in the clothing market.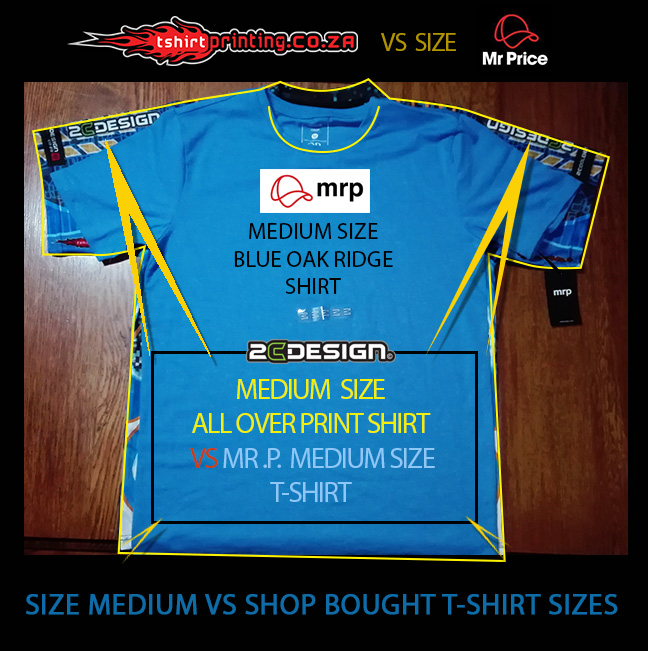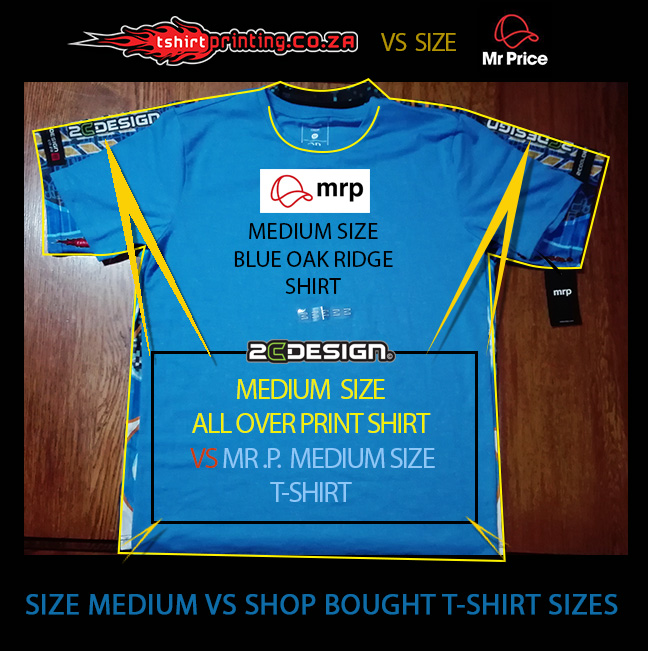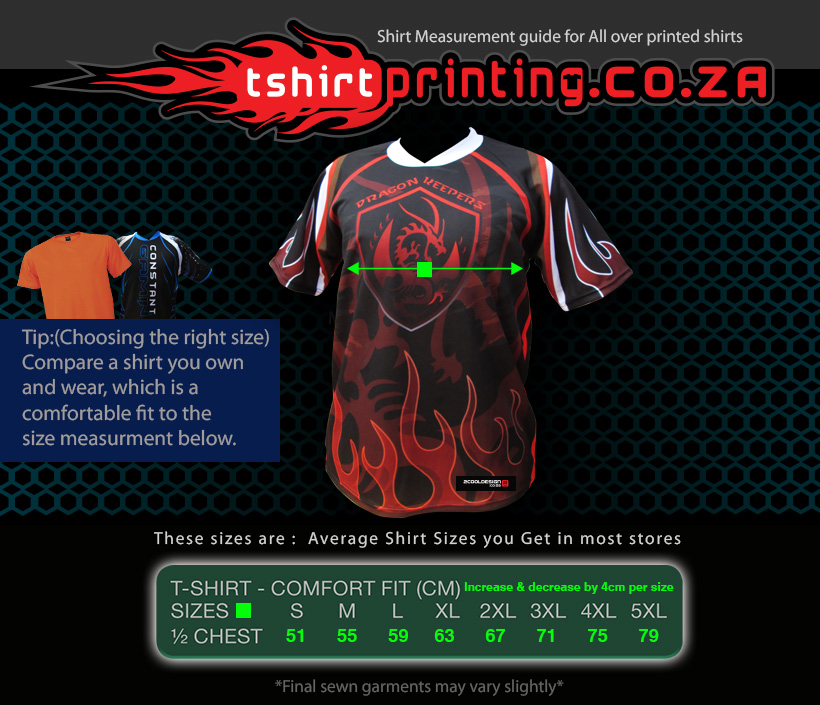 What is SURF WEAR quality?
We sell products that are retail quality, (surf wear quality), you can put our products next to bought products from a surf shop and compare the quality. It is the same…
We offer only SURF WEAR Quality products

Do you sell cheap promo  / cheaper products for resell?
NO (we sell only high quality products)
Do you print designs that fade or rub off after 1 wash?
NO (our prints last)
Do you supply shirts that will stretch after a few washes?
NO (we sell only high quality shirts)
Do you supply various grams of shirts i can choose from? (150grams,165grams,170gram etc), 
NO (we sell what gramage is available in that colour and best suitable for your project.
We use the best t-shirt grams available at the time of ordering)
Can i bring my own and you only print for me?
No (we do not offer this service), (we supply our own products only)
What  products do we offer?
T-shirts ,
Golfers,
Vests ,
Long Sleeves,
Sports wear ,
Hoodies ,
Jackets ,
Caps
Men's / Ladies / Kiddies options
Do you print other products, other than T-shirts, Hoodies , Caps & Jackets ?
No (we do not offer any other products to print on, for example your own rugby jersey needs numbers printed, we do not offer that type of service.)
KEEP IT CUSTOM & COOL, Then contact us……